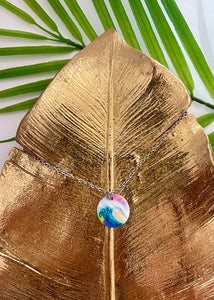 Ride the waves of vibrant color with our rainbow wave pendant necklace, embracing the playful harmony of colors and making a statement with this unique accessory that celebrates the beauty of both land and sky.

Size: 16 inch chain, 3/4 inch diameter pendant.
Materials: Stainless steel (unlike sterling silver, won't turn green), artist printed on freshwater pearl shell.
Care Instructions: Wipe clean.