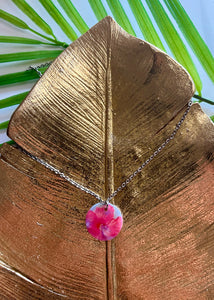 Grace yourself with the elegance of our hibiscus pendant necklace, elevating your style with a touch of nature's sophistication and celebrating the allure of floral beauty.

Size: 16 inch chain, 3/4 inch diameter pendant.
Materials: Stainless steel (unlike sterling silver, won't turn green), artist printed on freshwater pearl shell.
Care Instructions: Wipe clean.