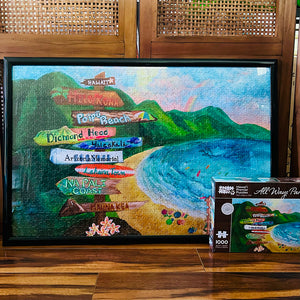 Featuring one of Aubrey's paintings, buying this puzzle supports local O'ahu business and Hawaii Premiere Puzzles as well as the artist.
This 1000 piece puzzle is made from genuine wood meaning you can pick it up and walk around and it stays together!
The box includes a full size color poster and premium mesh bag. The puzzle also features a lettering system on the back of pieces for quicker and faster assembly. No need to mount or glue it, you can hang this up using a 20"x30" standard poster frame.
Materials: Poplar wood
Size: 20x30in
For more options of puzzles visit https://hawaiipremierpuzzles.com/
Artwork and designs by Artist Aubrey Emi © Aubrey Emi LLC.