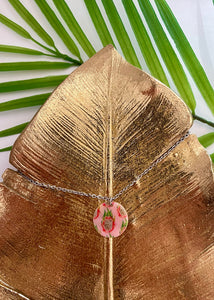 Indulge in the whimsical charm of our dragon fruit pendant necklace, adding to your style a touch of tropical splendor, celebrating uniqueness and natural beauty.

Size: 16 inch chain, 3/4 inch diameter pendant.
Materials: Stainless steel (unlike sterling silver, won't turn green), artist printed on freshwater pearl shell.
Care Instructions: Wipe clean.