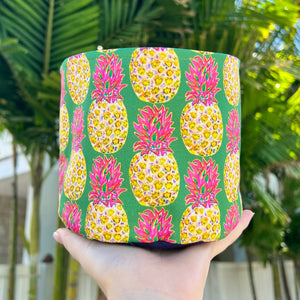 Our versatile fabric plant sacks, featuring Aubrey Emi original watercolor textile designs, are designed for multi-purpose storage, beyond just plants. Available in three sizes, including a perfect fit for a standard toilet paper roll, these pots combine practicality, style, and a touch of nature for organized spaces.
This plant sack is currently available in 1 size:

Small: 5.5"x5" (can comfortably fit a toilet paper roll or a 5" diameter pot)
Washing Instructions: Machine wash cold water, hang dry.
All original artwork and designs by Aubrey Emi. All images are © Aubrey Emi LLC. 
Artist retains all reproduction rights. Subjects may not be reproduced for any purpose without consent from the artist, before and after purchase.