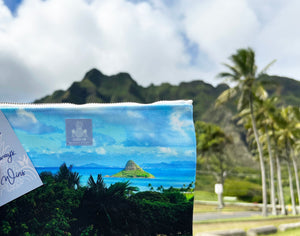 This print is currently available in 1size - It is more roomy than the "Small" size pouch yet smaller than the "Medium" size pouch. 

Medium-Small Pouch: approx. 5.75"x9" (Unlined).
Washing Instructions: To preserve color, quality, and avoid shrinkage recommended care is Hand wash or Machine wash in Cold Water flipped inside out (delicate/light cycle). Hang or lay flat to dry - or else it will shrink like your favorite jeans if put in the dryer!...
All original artwork and designs by Aubrey Emi. All images are © Aubrey Emi LLC. 
Artist retains all reproduction rights. Subjects may not be reproduced for any purpose without consent from the artist, before and after purchase.