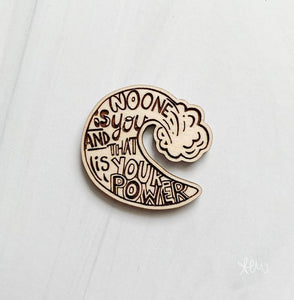 Positivity Pin Project: Sharing positivity with our art in the form of wooden pins!
"The most common way people give up their power is by thinking they don't have any." -Alice Walker. I hope this design inspires you to believe and remember that YOU are special, and YOU are powerful!
100% of proceeds from sale of my pin will go to Food for Change NYC, an amazing nonprofit born out of our current Civil Rights & Black Lives Matter Movement feeding protesters, organizers, others who are food insecure, and anyone coming out to fight for their rights/justice. 
Size: 1.5"x1.5" Wood Pin
Check out Instagram @thepositivitypinproject to see all 9 Hawaii Artists participating in this community project! Full list of links to each pin are in bio, taking you to the artists website. A percentage of proceeds for each design go to the artists nonprofit organization of choice to help communities in need!